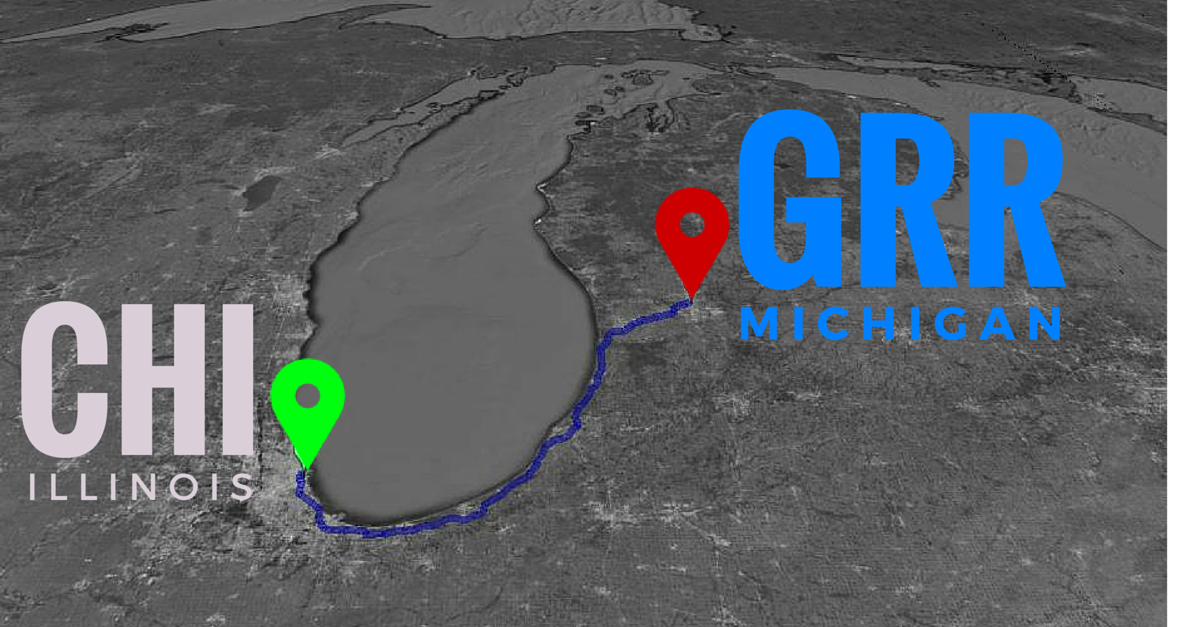 Ranked as one of the 25 Best Places to Live in the U.S.in 2019 (U.S. News & World Report), Top Up and Coming Cities (Thrillist) along with countless other awards including The Top Five Most Popular Destinations for Millennials (The National Assocation of REALTORS), Best Places to Retire in the U.S. (U.S. News & World Report), Top Places to Raise a Family (Forbes.com) Grand Rapids, MI has really made a name for itself.
But why are many new Grandrapidians (as Grand Rapids residents are known) moving here from Chicago?
Location – (it's a whole new world yet not too far from any Chicago family.)

From Grand Rapids to Chicago is about 2 hours and 45 minutes. A suburb of Chicago? Not quite, but the distance is certainly not long making "work at home – commute to CHI possible." Plus it's close enough where if there are fun things you enjoy about Chicago – it is very manageable to enjoy them.
Lake Michigan is about 25 minutes from Grand Rapids. Combined with over 10,000 inlet lakes, plus award winning rivers and streams – the water activities and beach enjoyment is endless.
Up North – for decades the "UP NORTH" area and lake shore area have been sought after playground for those from Chicago – imagine having that within a short drive of right out your own backyard!

Getting Ahead – having your dollar go farther is always advantage no matter what your stage of life.

The Cost of Living average for Grand Rapids 92.7 ( as noted on bestplaces.com ) compared to Chicago cost of living at 117.8
(also found on bestplaces.com.) Cost of living index is measured on a scale of 100 – 100 being the national average. Those under 100 allow your dollar to go farther – those over 100 your dollar would not buy as much of the daily things for living.

Travel Time – It has been said you can get anywhere in Grand Rapids in 20 minutes or less, across town, "outta town", etc.

The average commute from a Chicago suburb to downtown Chicago is currently about 60-75 minutes – without traffic. those of you that have experience know it can be closer to about 2 hours on some days – but even then unpredictable
Google maps is actually accurate for travel times in the Grand Rapids – why? Our traffic patterns are predictable and that allows for accurate projections on travel times.

Entertainment – you mean people choose Grand Rapids over Chicago for entertainment?

Grand Rapids hosts an amazing array of cultural festivities. Frankly they are easy to attend, good entertainment value vs ticket price  and the downtown parking rates and availability have appeal.
From Beach towns to Winter Wonders, Museums, Symphony, Live Theater, Opera, Broadway shows, and more….Check out an extensive list of things to do here:

Jobs – Yes, Grand Rapids is home to several large corporations making the list of some of the top employers in the world, in a variety of industries with a multitude of career options.  Make such lists as #1 – Mid-Sized Metro for Economic Growth Potential (Business Facilities),  Top Metro for Sustainable Development (Site Selection Magazine), Top Hiring Metro Areas in the U.S (Manpower.) Recently a job fair was held to attract new talent to the area where it was reported more than 1/3 of those attending where from Chicago and looking to move to Grand Rapids.
Grand Rapids has a lot to offer.  Winning award after award in a variety of categories (for a great list of even more reasons by West Michigan check this out: The Right Place.) Think it might be right for you? Feel free to start exploring all Grand Rapids has to offer. Have questions? Just Ask – we're known to be one of friendliest towns in the world as well!
Originally drafted in Jan 2016, this blog post has become one of our top performing posts, organically appearing in numerous searching. Updated now August 30 2019 with fresh links and updated data. Enjoy!