The real estate market continues to be in the headlines and with that comes mixed signals. The most important part of real estate is how your specific area is trending. Most of the news data you see will be about the national real estate trends which often take into account the east and west coasts. Those 2 markets tend to have larger swings in prices and volatility then the Midwest. When we look at Michigan, specifically the Greater Grand Rapids MI market we will see a much clearer picture of the current market and its affect on your property. Yet to REALLY see how your property is impacted we need to do an analysis for your specific property. Everything else is "trends for the area." Real estate is most definitely hyperlocal.
So how do the numbers stack up? Dive right into the report to review the numbers for yourself.
A couple of key takeaways:
The average time on market in October 2021 was 14 days, for October 2022 it is 17 days. Still landing in the "seller's market" category.
The average median sales price is up 11.54% over that of last year. This maybe due to the fact that while we do have fewer buyers in the market than last year, the number of buyers continue to outpace the number of homes on the market keeping the market in a "sellers' market" scenario.
Take note – this market is VERY different than last year! Last year several homes would have seen multiple offers – possibly even double digit multiple offers. Now it is trending that there maybe multiple interested buyers but far fewer offers on the table. This is allowing buyers to often see an offer with due diligence included be accepted (such as inspections, appraisals, etc.) I get more into that in this recent article. As a seller this means proper strategy, marketing and experience are top factors in getting your house sold.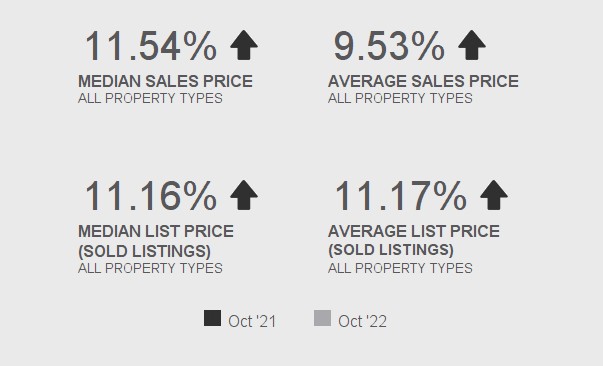 View the full report here: October 2022 Market Trends Report